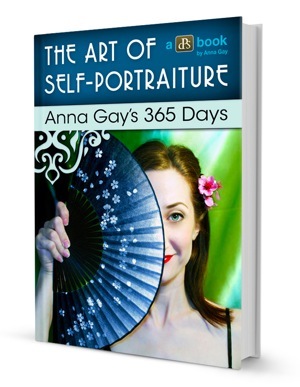 Tony Page reviews the latest ebook from the Digital Photography School
Well, here we go again, Darren Rowse has just put out another ebook under the Digital Photography School banner, but this time it's a bit different, in that it's not by a long time professional but by Anna Gay, who's only been really interested in photography for a couple of years, but has shot to fame largely through her 365 self-portraiture projects on Flickr.
Called "The Art of Self-Portraiture", with a sub-title that's not strictly relevant of "Anna Gay's 365 Days" (it actually only refers to aspects of this project in passing) this 52 page ebook (OK, 48 pages without the ads and TOC) is one of the most original and interesting publications DPS has put out. And I say that as a reasonably hard-bitten professional photographer for (too) many years.
(By the way, the ebook actually isn't in the format represented in the image on the right, see below)
If you want to check out the sales page, it's here:
The Art of Self-Portraiture
Yep, that's an affiliate link, and as usual I get about US$6 if you buy the book, but I suggest you read my review first to find out whether you should (you should).
But on to the Review…
Should YOU consider buying "The Art of Self-Portraiture"?
It's certainly a bargain price – 25% off – at US$14.95 during the initial launch period (which ends at midnight on 31st May Eastern US time). And you'll get a one in gazillion, well, maybe 4,000, chance of winning a new IPad2 along with your purchase. But the real question is whether it's right for you – are you going to get anything out of it, is it worth you spending both your time and money on it?
Short answer: yes, and I'm a stingy bastard when it comes to assessing photo books. Not because it's full of high tech wizardry and consummate professional skills (although it has its moments) but because Anna Gay has learnt her stuff by dint of hard practical experience, and is honestly forthcoming about what she has discovered.
What's more, she's original, for God's sake, what sweet relief!
And another reason to invest your hard-earned moolah in this eBook is that it will really help you improve your photography, especially if you're just starting out in this field, and not only with your self-portraiture, but in many other aspects of your craft as well.
Grunge Backgrounds, Clear Writing and Lots of Photos.
Well, the grunge backgrounds are only on the first page of the chapters, which is probably a good thing as they make the text difficult to read. But the rest of the book is well laid-out with attractive graphic call-outs, and easy to read columns in a landscape format that prints out OK in letter or A4 size should you prefer a hard copy.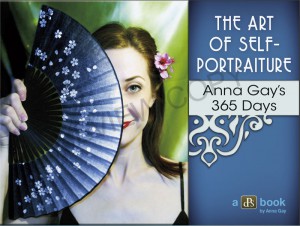 Click to see larger size
What's in it?
Here's a shot of the contents page. There is a sizeable introduction from Anna, and her book is split into seven chapters: Tools, Lighting, Composition, Focus, Post-Processing, Inspiration, and Self-Portrait Projects. One of the notable things about Anna's style of photography is her low cost approach. She didn't have a lot of cash when she started out – for the first year she didn't use a flash, only available light – and she's great at "making do" in original and ingenious ways. As a guerrilla travel photographer I particularly admired her $5 spray-painted silver umbrella!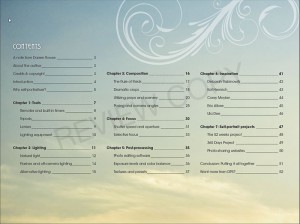 Click to see full-size
Anna holds nothing back and has a warm, friendly style of writing. She takes you through the various aspects of self-portraiture as she discovered them, with practical tips and suggestions for you to develop in your own way. She also provides some project exercises for you to try which are designed to advance both your photographic skills and personal confidence, the way she herself learnt without the benefit of this book to guide her.
What about the photos and layout?
What you see is what you get: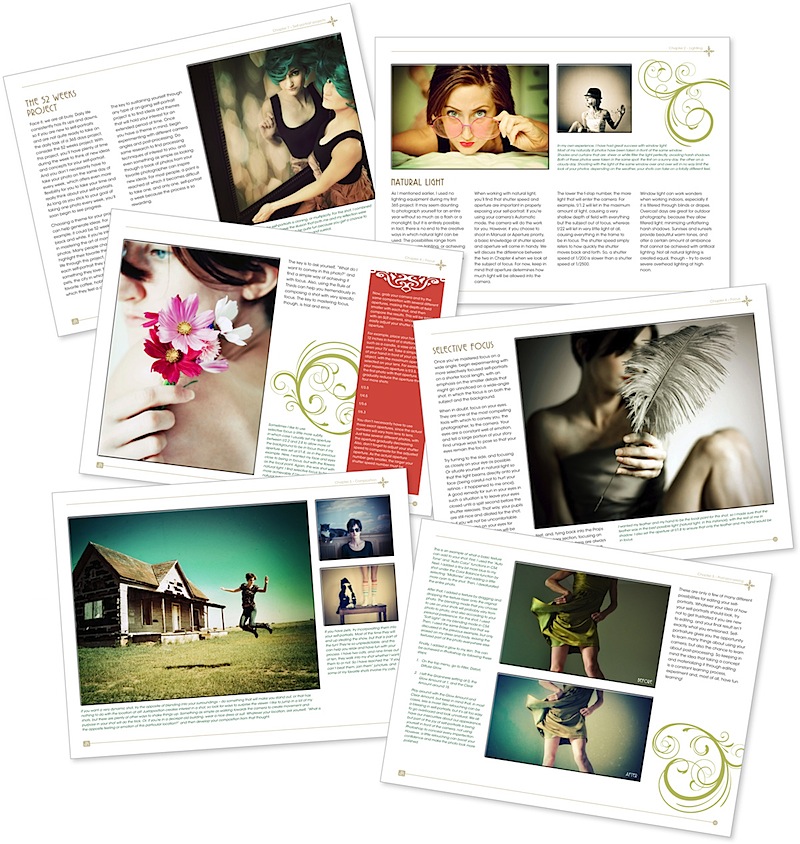 Should you buy this book?
If you've read my comments above, you should already know my opinion on this and have a good idea whether this eBook is for you. And if you don't think it's for you, you're wrong, so there. Apart from anything else, it's a good read and a fascinating look into the way Anna developed into the photographer and social media phenomenon she became.
In his introduction, Darren maintains "the practice you get in photographing yourself will not only help you grow your photographic skills – but it can also be a lot of fun, give you an avenue to express yourself and give you some creative shots to use with friends and family and online". I'd second that, although I personally try to avoid inflicting my ugly mug on the unsuspecting online public other than when I'm assured it's for "branding purposes". Still, you may well be better looking (not difficult, especially if you're female).
Interested in buying Anna's eBook? Of course you are! Hit my cunningly disguised affiliate button below and you'll be taken to the sales page: